Beauty In The Beast
Mon 15 to Sat 20 July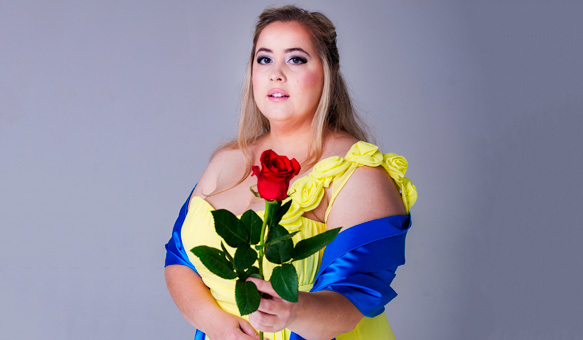 In a whirlwind of fairy tales sold to us since birth, Beauty In The Beast is a collection of funny, moving and honest reality checks presented in song.
Vulnerability opens us to profound pain and loss, but if you want profound joy it's a risk worth taking. The human experience is not a static state. You were not born to be one dimensional. You were born to live a colourful life, rich in connection, learning and healing. It's in the awkwardly comical exchanges, desperately lonely hours and the moments we stand up and say 'this is my truth', that we face the greatest beast in our lives – ourselves.
The brainchild of singer-songwriter Simone Spittle, Beauty In The Beast captures her awkward dating years, family sagas and growing pain dramas in a way that will make you think, 'oh, you too?'. Simone is a classically trained pianist and singer-songwriter with a flair for true stories stripped bare into ballads, fused with honeyed vocals and a side of comedic relief. Hailing from the west coast, Simone has spent most of the last decade travelling and working around Australia as a nurse and midwife and brings a wealth of life experience to the stage.
Showcasing her signature comedic and conversational song-writing Beauty In The Beast is for anyone who enjoys authentic, ridiculously funny and engaging stories and music.
Dates
| | |
| --- | --- |
| Monday 15 July 2019 | 7:00pm |
| Wednesday 17 July 2019 | 7:00pm |
| Thursday 18 July 2019 | 7:00pm |
| Friday 19 July 2019 | 7:00pm |
| Saturday 20 July 2019 | 7:00pm |
Prices
| | |
| --- | --- |
| Full | $35 |
| Concession | $31 |
| Group (6+) | $28 |
| Member | $28 |
BUY TICKETS
Under 18s
The Butterfly Club is a licensed venue. Under 18s can only attend if accompanied by a parent or legal guardian.