Don't Be A C***: This Is How
Mon 18 to Sat 23 Feb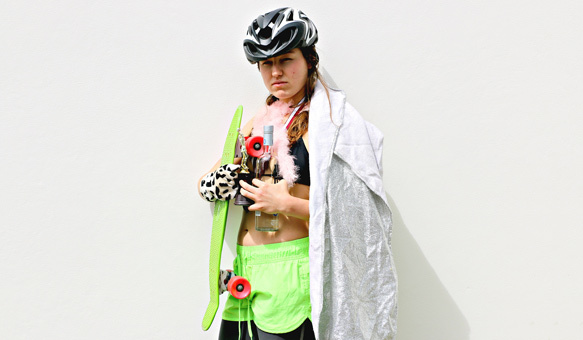 C​an U be a Feminist if U hate what other women wear? Are U pro-women if you've kicked one in a pub and liked it? And do U even want 2 hang out with girls who have self-respect on Saturday nights?
Julia Rorke is a Sydney born kombucha enthusiast who's always known her destiny: telling people how 2 be less shit. All her LYF, she's practiced her craft; in the classroom, at the pub, through the mode of abusive snapchats she forgets she sent.
But she's never gone pro. Until now.
Part self-help-seminar, part stand-up, part nightclub outing; Don't Be a C***: This is How, drags the audience down with Julia through a tunnel of arduous pain and explosive hilarity as she scrapes at the edges of a dirty hole; slowly coming to the painful realisation that nothing can save her from herself: not being overly desirable to the opposite sex, not a specific brand of feminism, not a contrived and carefully constructed identity. Only she can save her from herself. And that most prob won't work either.
Nominee Golden Gibbo 2018 Melbourne International Comedy Festival
Nominee Emerging Artist In Comedy 2018 Adelaide Fringe
'This was the funniest show I've seen at this year's Fringe so far — it might be an absurdist masterpiece. ★★★★' - Adelaide Advertiser
'Explosive, unrelenting and painfully relatable, Rorke brings out the best and worst (but mostly the worst) in all of us; leaving her audience doubled over with laughter and questioning whether they hate them themselves or their noisy, sweary self-help guru more. ★★★★★' - YEWTH
'A genuinely hilarious, "take no prisoners" satirical stand-up show, riddled with nihilism and crippling cynicism. ★★★★★' - Crikey
'This is a really fast-paced, incredibly funny show that is well and truly worth enlightening yourself with. ★★★★' - Beat Magazine
Dates
| | |
| --- | --- |
| Monday 18 February 2019 | 8:30pm |
| Tuesday 19 February 2019 | 8:30pm |
| Wednesday 20 February 2019 | 8:30pm |
| Thursday 21 February 2019 | 8:30pm |
| Friday 22 February 2019 | 8:30pm |
| Saturday 23 February 2019 | 8:30pm |
Prices
Full
$34
Concession
$30
Member
$27
Group (6+)
$27
Early Bird (until 5pm, 7th Feb)
$25
All transactions attract a one-off $3.95 booking fee
BUY TICKETS
Under 18s
The Butterfly Club is a licensed venue. Under 18s can only attend if accompanied by a parent or legal guardian.