Don't Trust Me, I'm a Dentist
Wed 18 to Sun 22 Oct
---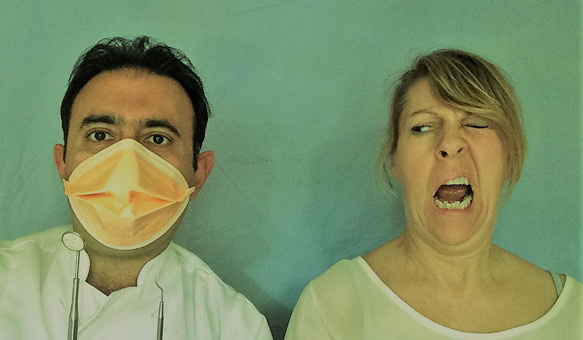 ---
Dr. Ronnie Ramirez takes us on a comical journey of how he became a disillusioned, mentally-unstable dentist. His long-suffering loyal nurse Yvette, does her best to keep a level head in this world of supposed professionalism.
This one-act comedy is based on true experiences of co-writer/actor Amir Rahimzadeh in his previous life as a dentist.
Together with Sharon Heywood, the duo from the UK bring their 3rd production to Australia, where they will multi-role their way through the narrative of a dentist, his nurse, a load of patients and other poor buggers.
See what really happens behind closed surgery doors.
Buy Tickets
---
Become a member
Our members enjoy $1 off every drink, discounted tickets to most of our shows, and a pretty membership card (ooooh).
Dates
| | |
| --- | --- |
| Wednesday 18 October 2017 | 7:00pm |
| Thursday 19 October 2017 | 7:00pm |
| Friday 20 October 2017 | 7:00pm |
| Saturday 21 October 2017 | 7:00pm |
| Sunday 22 October 2017 | 7:00pm |
---
Prices
| | |
| --- | --- |
| Full | $32 |
| Concession | $28 |
| Member | $26 |
| Group (6+) | $25 |
| All transactions attract a one-off $3.95 booking fee | |