Romeo Is Not The Only Fruit
Tue 14 to Sun 26 Nov
---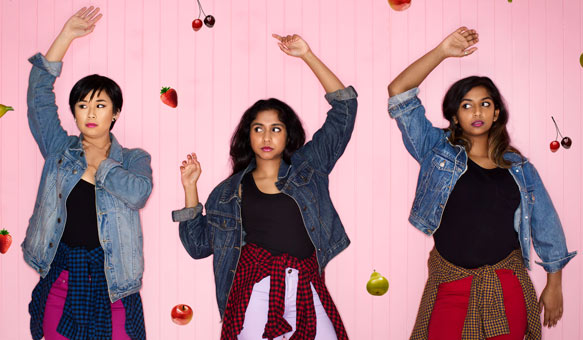 ---
Please note that the performance on Wednesday 22 November will be a Relaxed Performance, which is suitable for audiences who may require a more relaxed sensory experience and casual environment. The intensity of light and sound will be reduced, the house lights will stay up, and there will be a relaxed attitude to noise and movement from the audience. An electronic pre-show resource pack containing information on the venue and the production can be downloaded from the Poppy Seed website. For additional, specific sensory access questions, please contact Miguel Lontoc at miguel.lontoc@gmail.com.
A musical romp better than the best mod-rom-com, Romeo Is Not The Only Fruit takes the star-crossed lovers audiences know and love, and makes them better as star-crossed lesbians.
Featuring a Dead Lesbian chorus and some pretty gay songs, Romeo Is Not The Only Fruit is fun, campy, politically irreverent and casually incisive.
Writer, director and lyricist Jean Tong explains that the creative team are young, queer and want to party while opening up pathways into shifting the state of representation as it currently stands, 'It's 2017 and the world is still telling the same, tired old story about queer people of colour and our access to spaces.'
'Whether on the news or on Netflix, we're still watching ourselves die for someone else's happiness, someone else's comfort.
Romeo Is Not The Only Fruit is a tongue-in-cheek, fist-in-air response to this, because we're pissed off, charming, hilarious and write catchy songs,' said Tong.
As a political satire with a meet-cute, cultural clash, sex, death and a dastardly plan, Romeo Is Not The Only Fruit is a whirlwind journey with tropes that have never been seen before, featuring lesbians galore, a spicy score and an even spicier ending.
Buy Tickets
---
Become a member
Our members enjoy $1 off every drink, discounted tickets to most of our shows, and a pretty membership card (ooooh).
Dates
| | |
| --- | --- |
| Tuesday 14 November 2017 | 8:30pm |
| Wednesday 15 November 2017 | 8:30pm |
| Thursday 16 November 2017 | 8:30pm |
| Friday 17 November 2017 | 8:30pm |
| Saturday 18 November 2017 | 8:30pm |
| Sunday 19 November 2017 | 8:30pm |
| Tuesday 21 November 2017 | 8:30pm |
| Wednesday 22 November 2017 | 8:30pm |
| Thursday 23 November 2017 | 8:30pm |
| Friday 24 November 2017 | 8:30pm |
| Saturday 25 November 2017 | 8:30pm |
| Sunday 26 November 2017 | 8:30pm |
---
Prices
| | |
| --- | --- |
| Full | $35 |
| Concession | $25 |
| Member | $25 |
| Preview | $22 |
| All transactions attract a one-off $3.95 booking fee | |