Business Boyz
Mon 4 to Sun 10 Apr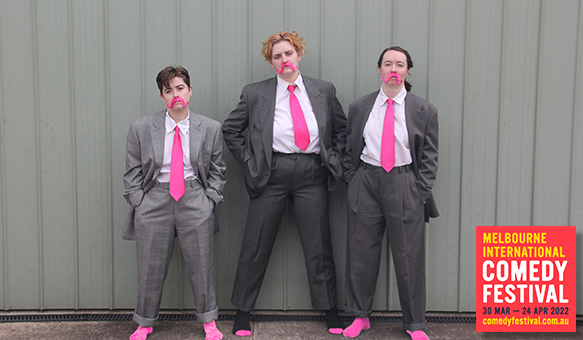 Late nights, early mornings, hot coffee and even hotter men.
It's Monday morning, and the Business Boyz have a big business deadline coming up on Friday. As soon as they're back from smoko, Sammo (the hot one), Nips (the sensitive one) and Bice (the brains of the operation) will be putting their heads (and their dicks) together to get back to business. For the first time, these lads will find out the meaning of hard work. Expect spreadsheets, romance, tears, and werewolves. With the office aircon on the fritz and the new ergonomic standing desks stuck in an auspost backlog, the boyz are about to get hot and bothered in the city.
Business Boyz is The Office meets an aerobics class meets Steve Irwin, where the animals wrestled are the animals within us all. It's absurd, it's satirical, and it's some certified Gay Shit™. Button up your crispest white shirt, comb your moustache and crack out your wackiest tie - the Business Boyz are clocking on.
The Titwitchez are a queer comedy coven made up of Liv Bell (they/them, she/her) , Emily White (they/them) and Taco Kuiper (she/her). Using the magic of physical theatre, burlesque, and drag, their work is a queer explosion of bodies, witchcraft and ecofeminism.
Dates
| | |
| --- | --- |
| Monday 04 April 2022 | 10:00pm |
| Tuesday 05 April 2022 | 10:00pm |
| Wednesday 06 April 2022 | 10:00pm |
| Thursday 07 April 2022 | 10:00pm |
| Friday 08 April 2022 | 10:00pm |
| Saturday 09 April 2022 | 10:00pm |
| Sunday 10 April 2022 | 10:00pm |
Prices
| | |
| --- | --- |
| Full | $35 |
| Concession | $31 |
| Group (6+) | $28 |
| Tight Tuesday | $28 |
| Member | $28 |
| Early Bird | $26 |
BUY TICKETS
Under 18s
The Butterfly Club is a licensed venue. Under 18s can only attend if accompanied by a parent or legal guardian.
Vaccines
In compliance with government requirements, all patrons must be fully immunised against Covid 19 (or have a government recognised exemption) in order to enter the building.
Arrive Early
Our shows start on time. Please arrive 30 minutes early so as to have time to check in with the QR code, collect your ticket, show us your vax status, make your way to the theatre, etc etc.