Carols in Minor Keys
Wed 21 to Fri 23 Dec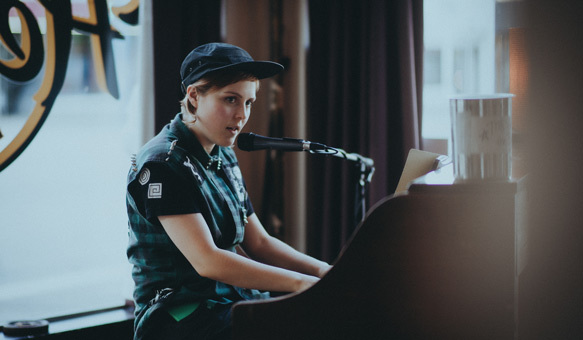 Is Christmas the most wonderful or the most dysfunctional time of year? It's both in this cathartic, darkly joyful, and festive cabaret show!
Piano Punk (a classically trained pianist and singer who normally specializes in hardcore, metal, grunge and punk on piano) takes a night off from their usual nonsense to bring you this very special seasonal show of deeply unsettling and childhood-ruining renditions of Christmas Carols you once loved. They will be playing minimalistic piano arrangements and singing in this show that is equal parts creepy and campy.
'Joy To The World' broils with the wrath of the old testament god. 'Have Yourself a Merry Little Christmas' becomes an ominous and sharp-tongued meditation on death as the lyrics "through the years we all will be together if the fates allow" take on new meaning. 'What Child Is This?' in a minor key becomes a horrifying tale of the gruesome death of Christ ("nail, spear shall pierce him through, the cross be borne for me for you") that feels more like a very odd cause for celebration. 'All I Want For Christmas is You' becomes fodder for a restraining order and 'Santa Claus is Coming to Town' is a slow-burning, hair-raising warning.
Dates
| | |
| --- | --- |
| Wednesday 21 December 2022 | 7:00pm |
| Thursday 22 December 2022 | 7:00pm |
| Friday 23 December 2022 | 7:00pm |
Prices
| | |
| --- | --- |
| Full | $37 |
| Concession | $33 |
| Group (6+) | $30 |
| Member | $30 |
BUY TICKETS
Arrive Early
At least 30 minutes before the show. Our performances start bang on time and it takes a hot second to welcome you into the building.
Under 18s
The Butterfly Club is a licensed venue. Under 18s can only attend if accompanied by a parent or legal guardian.