Death And The Discotheque
Wed 5 to Sat 8 Jan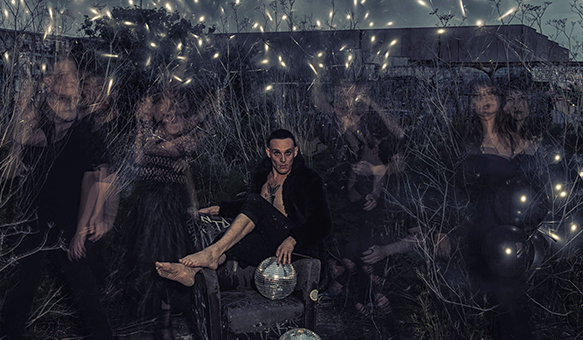 THIS SHOW CONTAINS STRONG ADULT THEMES, NUDITY, STROBE, LOUD MUSIC AND IS NOT SUITABLE FOR AUDIENCES UNDER THE AGE OF 18.
"A wild ride for the end of times"
Death And The Discotheque is an offering, a moment in time, a rave parading as performance in memoriam to those we have lost and the experiences we crave, both absent, one forever, one not...
Written by Jessi Lewis (a current Globe Community Award Finalist - Outstanding LGBTIQ Media Reporting) who for a long time has been as much fascinated by death as they are the types of interactions one has on a night out, in love with the energy of a dancefloor, and the abandon both can bring. But now, in 2021- at this particular moment, those interactions and those spaces are off limits, non-existent.
"As much as this performance, and myself yearn for those friends and loved ones I have said goodbye to, I now yearn as much for those night-time spaces."
Written at the peak of 2019/2020 Black Summer Bushfires, the work is similarly tinged by the memories of ecological collapse and environmental emergency.
Death And The Discotheque, is a dance cabaret set to a pulsating electro soundtrack with Jessi is joined by dancers Indya Brott, Sofia Reinking, Angus Eastwood and Ben White, with live narration and an unrelenting bass line that will have you heart pumping.
"On a crowded dance floor at 3am, our bodies dripping in sweat, the music thumping, this is where we, our worlds, collide."
Dates
| | |
| --- | --- |
| Wednesday 05 January 2022 | 8:30pm |
| Thursday 06 January 2022 | 8:30pm |
| Friday 07 January 2022 | 8:30pm |
| Saturday 08 January 2022 | 8:30pm |
Prices
| | |
| --- | --- |
| Full | $35 |
| Concession | $31 |
| Member | $28 |
| Group (6+) | $28 |
BUY TICKETS
Under 18s
The Butterfly Club is a licensed venue. Under 18s can only attend if accompanied by a parent or legal guardian.
Vaccines
In compliance with government requirements, all patrons must be fully immunised against Covid 19 (or have a government recognised exemption) in order to enter the building.
Arrive Early
Our shows start on time. Please arrive 30 minutes early so as to have time to check in with the QR code, collect your ticket, show us your vax status, make your way to the theatre, etc etc.