KOVID RAT KABARET
Mon 26 Sep to Sat 1 Oct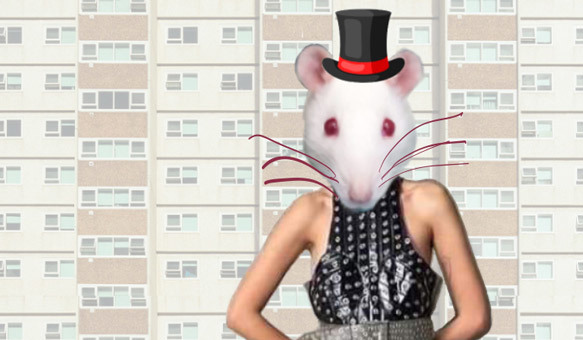 The Covid 19 Pandemic generated lockdowns and solitude. Business went bust - kaput - no comfort shopping spree. No retail therapy. Four mild neurotics on probiotics Karen, Adam, Claire and Andrew try to zoom their way out of Iso Bubble into "One size-fits-all", bare your soul, self-inflatable Therapy Psychobabble. But the Fraudulent Fraulein Freud bursts their Therapy Psychobabble with highly infectious songs of the Weimar variety and the four Zoombies find themselves on stage of The Butterfly Club mutating into Kovid Rats!!!
ELLA FILAR & CERISE DE GELDER COLLABORATION
CERISE DE GELDER has been writing for the independent theatre scene for nearly twenty years. During lockdown she accepted the challenge to add a touch of sanity to Krows Bar Kabaret's crazy world. She didn't succeed but she had fun trying.
ELLA FILAR'S Krows Bar Kabaret is political, vulgar, artistic, grotesque, sexy and sublime. Inspired by Left-Of-Berlin European post-war musicology and performance, its highly original, inimitable style is characterised by a rich combination of the ordinary and the fantastic. It is a joyful yet terrifying challenge.
...all the songs and the music are world class with that smoky, jagged, disturbing Weimar feel… politically and socially charged "Kabaret with a K" – Stagewhispers
Ruth Katerelos, Chris Molyneux, Claire Nicholls, Adam Ibbetson, Maureen Hartley, Ella Filar(keyboard), Martin Zakharov (Sax), Sally Banks (Violin)
Dates
| | |
| --- | --- |
| Monday 26 September 2022 | 8:30pm |
| Tuesday 27 September 2022 | 8:30pm |
| Wednesday 28 September 2022 | 8:30pm |
| Thursday 29 September 2022 | 8:30pm |
| Friday 30 September 2022 | 8:30pm |
| Saturday 01 October 2022 | 8:30pm |
Prices
| | |
| --- | --- |
| Full | $37 |
| Concession | $33 |
| Member | $30 |
| Group (6+) | $30 |
BUY TICKETS
Arrive Early
At least 30 minutes before the show. Our performances start bang on time and it takes a hot second to welcome you into the building.
Under 18s
The Butterfly Club is a licensed venue. Under 18s can only attend if accompanied by a parent or legal guardian.