Stir Fried Science
Mon 18 to Sat 23 July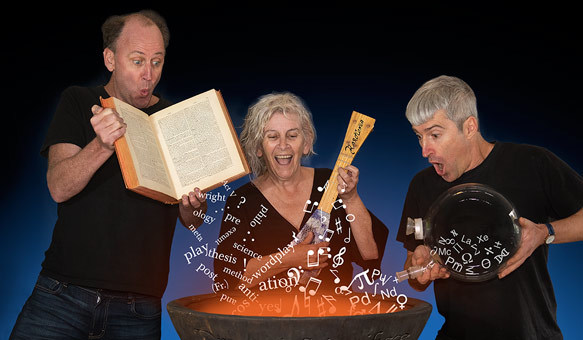 Finally Dramatis Scientificae are coming to Melbourne!
The team that brought you Poet's Guide to Science, Rumpelstiltskin and the Case of the Missing Research Grants and Adventures Abroad in Science serves up a brand new show.
Featuring science-themed comic sketches, and working scientists presenting their latest research.
FEATURING REAL LIVE SCIENTISTS
Yes! After a year of avoiding Covid-laced sneezes, coughs and associated respiratory droplets, Dramatis Scientificae are back! Phil Dooley, Michele Conyngham and Patrick Davies are your hosts for Stir Fried Science, a cornucopia of science, comedy, music and even a smidgin of philosophy.
Want to debate the newsworthiness of black holes? Or apply Schrodinger's theory to ringing doorbells? Perhaps you would like to discover the wonders of algae or philosophise about the nomenclature used on your cafe menu?
If so, come along and imbibe a drink and take in a show about science full of variety. How could that be phrased more succinctly? Variety Show Full of Science? Science Variety Show? Or simply Stir Fried Science? Let's go with that.
Catch you there - if this blurb is good enough; if science is your bag; if you like a good laugh; if you like Phil or Michele or any of the others; hopefully.
Dates
| | |
| --- | --- |
| Monday 18 July 2022 | 7:00pm |
| Tuesday 19 July 2022 | 7:00pm |
| Wednesday 20 July 2022 | 7:00pm |
| Thursday 21 July 2022 | 7:00pm |
| Friday 22 July 2022 | 7:00pm |
| Saturday 23 July 2022 | 7:00pm |
Prices
| | |
| --- | --- |
| Full | $37 |
| Concession | $33 |
| Group (6+) | $30 |
| Member | $30 |
| Early Bird | $28 |
BUY TICKETS
Arrive Early
At least 30 minutes before the show. Our performances start bang on time and it takes a hot second to welcome you into the building.
Under 18s
The Butterfly Club is a licensed venue. Under 18s can only attend if accompanied by a parent or legal guardian.