Facts Don't Matter
A Game Show For The Post-Truth World
Tues 23 to Sun 28 May
---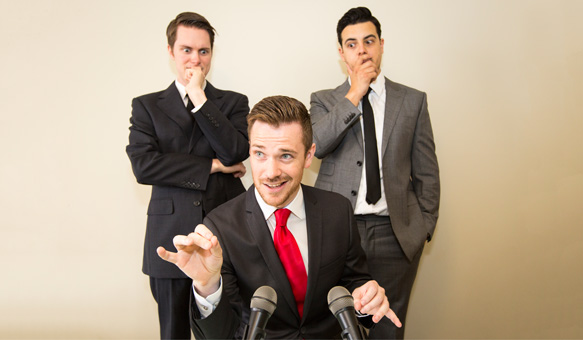 ---
Facts Don't Matter is a one-time only, hand-crafted, organic, farm-to-table, GMO-free season of shows from the team behind everyone's favourite award-seeking podcast Unnatural Selection.
For one week only, the guys, along with a rotating panel of hilarious guests will compete to be Melbourne's Next Top Tyrant.
Through a series of ridiculous mini games, the teams will pick the worst possible political policies for their opponents and then debate their use in a presidential style election where the winner is decided by the audience.
And it's anyone's game because if there's one thing we've learnt in the last year it's that Facts. Don't. Matter.
Buy Tickets
---
Become a member
Our members get $1 off all drinks, regular offers of discounted (or free) tickets, access to members-only events and a pretty card that fits right in your wallet.
Dates
| | |
| --- | --- |
| Tuesday 23 May 2017 | 8:30pm |
| Wednesday 24 May 2017 | 8:30pm |
| Thursday 25 May 2017 | 8:30pm |
| Friday 26 May 2017 | 8:30pm |
| Saturday 27 May 2017 | 8:30pm |
| Sunday 28 May 2017 | 8:30pm |
---
Prices
| | |
| --- | --- |
| Full | $32 |
| Concession | $28 |
| Members | $26 |
| Group (6+) | $25 |