Wizard Actors: A Brief History of Magic
Tue 22 to Sat 26 May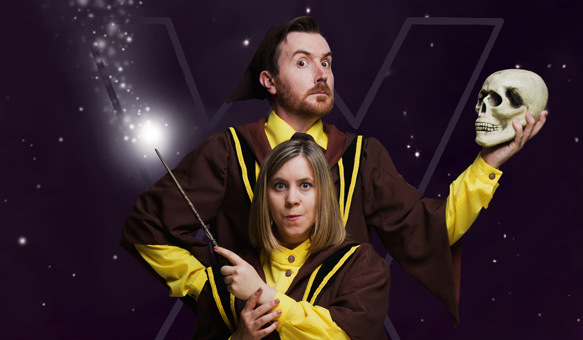 Enter the magical world of Quidditch, Butterbeer and Harry Potter, and take a journey with Wizard Actors into the past to learn about our wonderful wizarding history.
Caitlin and Rob, recent graduates from the Wizarding Academy of the Dramatic Arts, explore and re-enact not only the key moments of magical history, but also the lives and legends of iconic Witches & Wizards throughout the ages.
From the great Merlin, right up to a certain boy who lived, it's everything you wanted to know about The History of Magic… But were too bored to ask in Professor Binns' class!
Magical folk of all ages will get to interact with celebrated figures, important moments and fantastic beasts from wizarding history.
Dates
| | |
| --- | --- |
| Tuesday 22 May 2018 | 6:00pm |
| Wednesday 23 May 2018 | 7:00pm |
| Thursday 24 May 2018 | 7:00pm |
| Friday 25 May 2018 | 6:00pm |
| Saturday 26 May 2018 | 7:00pm |
Prices
Full
$32
Concession
$28
Member
$26
Group (6+)
$25
All transactions attract a one-off $3.95 booking fee
BUY TICKETS