Young, Dumb and Full of Mum
Mon 4 to Wed 13 Apr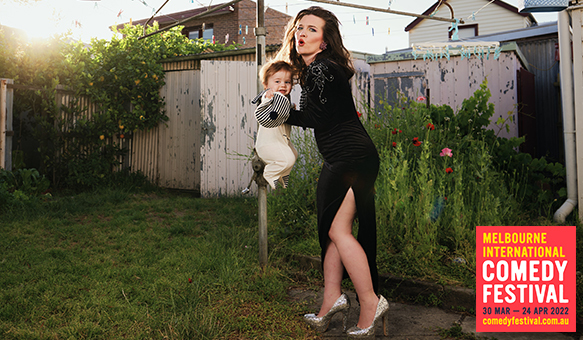 Don't call Rose Callaghan a "mum". She's an intelligent, alluring, bisexual Scorpio with E cup boobs and a newly issued probationary licence
In a truly inspiring world first, after finishing the 8th season of Homeland and trying weed again, Rose Callaghan (WINNER, Sydney Fringe 'Best Comedy' award) got pregnant and had a baby during Covid (there was another person involved, but this isn't his comedy show). The experience of trying to be a modern parent in a system that's quite attached to outdated gender stereotypes came as a shock.
This fun late night show answers the questions everyone wants to know:
Are cis women inherently better at knowing about baby stuff than men, or did it in fact take 8000 hours in mum Facebook groups and days spent Googling things like "8-week old baby why still crying", only to be told "you're just better at this kind of stuff"?

What can male and female couples learn about parenting from lesbians?

Is my baby cute or am I just biologically wired to think so?
In Rose's quest to find out the truth, she stumbles across an ancient VHS from 1985. It's an independent film her mum made about single motherhood, revealing the truth about where we've come from, and where we've landed in 2022.
A hilarious journey whether you're already a parent, planning to be or have no plan to breed whatsoever.
Directed by Nicolette Minster (Cast/Writer, KINNE Tonight, Network Ten; Cast, Sammy J, ABC)
"Brutally honest and hilariously frank, Rose Callaghan is a powerhouse on the stage" - Pedestrian.TV
"She's damn funny. That's all you need to know. Go see her. ★★★★" - Daily Review
"Shows you can't miss… Rousing and bracingly honest" - The Guardian
"Jawdropping and downright hilarious ★★★★" - The Herald Sun
"Shows you can't miss... Callaghan has been the talk of the comedy town" - The Urban List
"My face hurt from laughing" - Pop Culture-y
"Callaghan has an instinctual knack for stand up. Masterfully sarcastic and hilarious...a cracker of a show" - Stage Whispers
"A natural comedian...her delivery and timing is outstanding" - Weekend Notes
---
The performance on Saturday 9 April features an Auslan interpreter provided by Auslan Stage Left.
This show is produced with the support of The Victorian Government through Creative Victoria and Regional Arts Victoria's Sustaining Creative Workers Initiative.
Booking for Tuesday night? Use promo code "tuesday" for $28 tickets!
Dates
| | |
| --- | --- |
| Monday 04 April 2022 | 10:00pm |
| Tuesday 05 April 2022 | 10:00pm |
| Wednesday 06 April 2022 | 10:00pm |
| Thursday 07 April 2022 | 10:00pm |
| Friday 08 April 2022 | 10:00pm |
| Saturday 09 April 2022 | 10:00pm |
| Sunday 10 April 2022 | 10:00pm |
| Monday 11 April 2022 | 10:00pm |
| Tuesday 12 April 2022 | 10:00pm |
| Wednesday 13 April 2022 | 10:00pm |
Prices
| | |
| --- | --- |
| Full | $35 |
| Concession | $31 |
| Group (6+) | $28 |
| Tight Tuesday | $28 |
| Member | $28 |
| Early Bird | $26 |
BUY TICKETS
Under 18s
The Butterfly Club is a licensed venue. Under 18s can only attend if accompanied by a parent or legal guardian.
Vaccines
In compliance with government requirements, all patrons must be fully immunised against Covid 19 (or have a government recognised exemption) in order to enter the building.
Arrive Early
Our shows start on time. Please arrive 30 minutes early so as to have time to check in with the QR code, collect your ticket, show us your vax status, make your way to the theatre, etc etc.